Main content starts here, tab to start navigating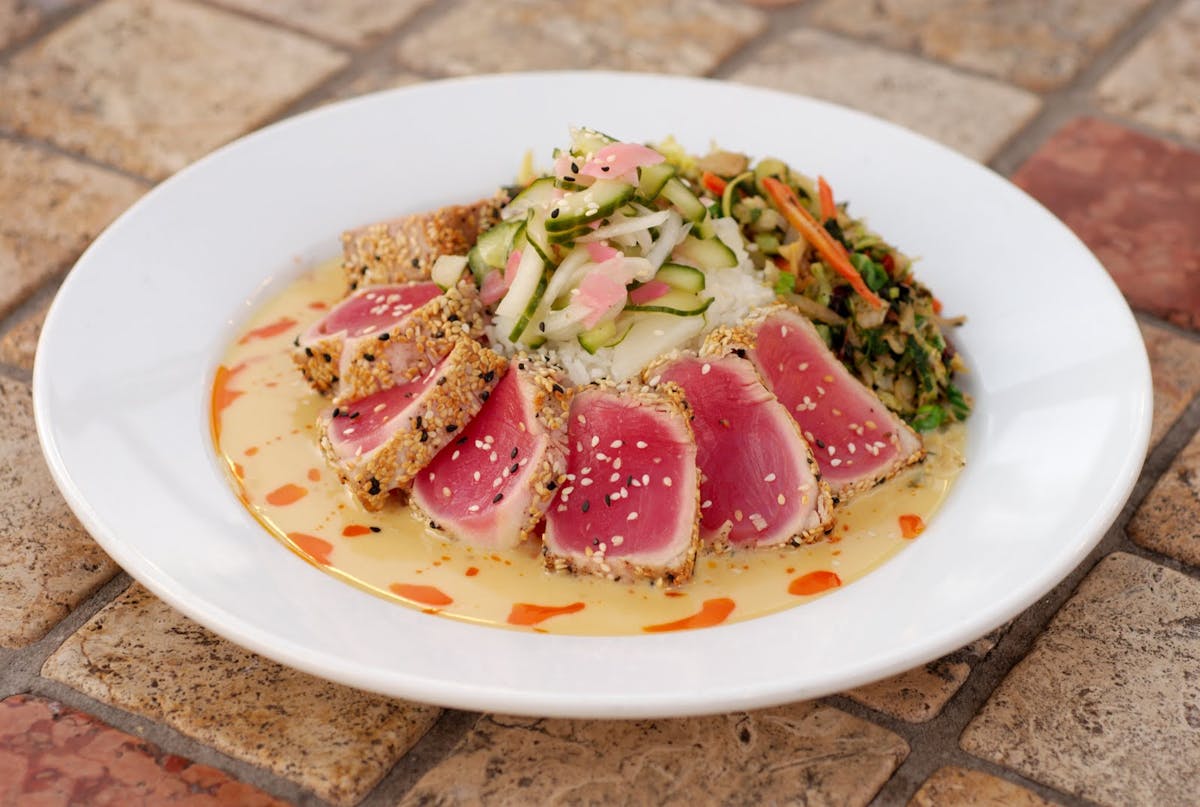 Our menu will be ever-evolving depending on demand and what supplies we have available... so please check back daily!
Delivery available by Doordash (through our website - link above) or Grubhub.
Payment for pick up must be made in advance.
APPETIZERS
SWISS FONDUE

bread, apples and an assortment of veggies

$24

CRISPY CRAB CAKES

dungeness crab cakes with thai chili beurre blanc

$22

MONTEREY BAY CALAMARI

flash fried with fresh herbs, crushed garlic and parmesan, horseradish cocktail sauce

$16

GRILLED LAMB LOLLIPOPS

hoisin-glazed australian free range lamb chops, asian cabbage salad garnish, beurre blanc

$24

gluten free

GRILLED ARTICHOKE

artichoke halves marinated in white wine and served warm over mixed greens with sweet basil and roasted yellow pepper aiolis

$14

gluten free

AHI TUNA TARTARE

marinated diced raw sashimi tuna, asian slaw, avocado, soy chili, crispy wontons, wasabi drizzle

$22

PANKO PRAWNS

flash fried panko crusted butter-flied prawns,tangy cocktail sauce, fresh lemon

$18

CHEESY GARLIC BREAD

sourdough bread baked with garlic and our three cheese blend

$4

FRENCH FRIES

$7

SWEET POTATO FRIES

$7

TRUFFLE FRIES

$10
SOUPS & SALADS
FRENCH ONION WITH GRUYERE GRATIN

$10

SOUP DU JOUR

Chicken Tortilla

$8

Add Grilled Chicken to any Salad

$5

Add Blackened Chicken to any Salad

$5

Add dinner size Sesame Seared Ahi Fillet to any Salad

$18

Add Grilled Salmon Fillet to any Salad

$12

GARDEN SALAD

baby mixed greens, cucumber, cherry tomatoes, red onion, jicama, carrots & croutons, bleu cheese vinaigrette or house buttermilk dressing

$12

CLASSIC CAESAR SALAD

hearts of romaine, crunchy croutons,parmesan, classic caesar dressing

$12

WEDGE SALAD

iceberg lettuce wedge, gorgonzola crumbles, hard cooked egg, pancetta, cherry tomatoes, shaved red onion, creamy bleu cheese dressing

$16

HARVEST SALAD

orchard pears, apples & candied pecans, mixed greens, gorgonzola cheese, citrus vinaigrette, goat cheese crostini

$15

CHINESE CHICKEN SALAD

grilled chicken, napa, green, red cabbage, crispy wonton noodles, orange segments, peanuts, toasted sesame seeds, ginger sesame vinaigrette

$16

SOUTHWEST CHICKEN SALAD

romaine hearts, red onions, red bell peppers, diced tomatoes, tortilla strips, black beans, avocado, jack & cheddar cheeses, southwest ranch dressing, grilled blackened chicken

$16

SEARED AHI SALAD

seared rare sliced sashimi-grade ahi, shredded cabbage, oranges, crispy wontons, toasted sesame seeds, almonds, and ginger sesame vinaigrette

$26

DOUBLE SHRIMP & AVOCADO

bay shrimp, gulf prawns, avocado, tomatoes, red onions, mixed greens, red wine vinaigrette, crumbled gorgonzola cheese

$19

gluten free

THAI SHRIMP SALAD

shredded romaine, cabbage, red bell peppers, carrots, red onions, bean sprouts and cilantro tossed with sweet & sour citrus dressing, layered over a bed of sesame soy-ginger noodles and topped with lightly fried shrimp tossed in sweet chile sauce

$19
ENTREES
GRILLED FILET MIGNON

all-natural choice cut with yukon gold smashed potatoes, seasonal veggies red wine demi glace and a hint of beurre blanc

$63

gluten free

GRILLED RIB EYE STEAK

grilled all natural choice cut, red wine demi glace, yukon gold smashed potatoes and seasonal veggies

$63

NEW YORK STEAK

all natural choice cut grilled with fresh mushrooms and spanish onions in a sherry peppercorn sauce with smashed yukon gold potatoes and seasonal veggies

$58

gluten free

BISTRO STEAK

sautéed crimini mushrooms, spanish onions and green peppercorns flamed in sherry, finished in demi glace, smashed yukon gold potatoes and seasonal veggies

$34

gluten free

BRAISED SHORT RIBS

tender slow braised chuck short ribs with zinfandel demi glace, smashed yukon gold potatoes and seasonal veggies

$34

gluten free

GRILLED LAMB CHOPS

all natural free range australian lamb chops, smashed Yukon gold potatoes, spring veggies, red wine demi glace

$52

BABY BACK RIBS

slow roasted and smoked all natural pork ribs grilled and smothered with chipotle bbq sauce and served with sweet potato fries and veggies

$30

SOY GLAZED SALMON

jasmine rice, seasonal veggies, ginger beurre blanc & wasabi drizzle (gluten free soy)

$33

gluten free

SESAME SEARED AHI

sashimi-grade ahi seared rare with jasmine rice, baby bok choy, chili oil and hot mustard soy butter sauce

$34

gluten free

PARMESAN CRUSTED HALIBUT

pan-roasted, tomato-basil tapenade, tomato beurre blanc, yukon gold smashed potatoes, grllled asparagus

$36

CHICKEN PICCATA

tender seasoned chicken breast sautéed with mushrooms, scallions and capers in a tangy white wine lemon-butter sauce; wild rice medley with seasonal veggies and a hint of beurre blanc

$29

CHICKEN MARSALA

tender chicken breast, crimini mushrooms, garlic, marsala demi-glace finish, yukon gold smashed potatoes and spring veggies

$29

DUCK CONFIT & PAN SEARED BREAST

house cured confit of leg and pan-roasted breast, vanilla infused port-raspberry reduction, sautéed snap peas with baby carrots and wild rice medley with a hint of beurre blanc

$34

TORTELLINI & CRANBERRY CHICKEN -Sold out for 7/31/21

cheese-stuffed spinach tortellini, grilled cranberry marinated chicken breast, sun-dried tomatoes, artichoke hearts in a creamy basil sauce

$26

SPAGHETTI BOLOGNESE

traditional house made meat sauce sautéed with mushroom, spinach, garlic, spanish onions, roma tomatoes, a touch of cream and aged parmesan

$26

HUNGARIAN GOULASH

tender beef, crimini mushrooms, tomatoes, carrots and spanish onions simmered in a white wine-paprika demi-glace and served over buttered noodles with sour cream garnish

$32
SANDWICHES
served with fries (no substitutions available at this time)
CELLAR BURGER

½ lb. ground chuck, lettuce, tomato, pickle and choice of cheddar or swiss on brioche bun

$17

PHILLY CHEESE STEAK

slices of bistro steak with three colored bell peppers, spanish onions, mushrooms and provolone cheese, warm flat bread with chipotle aioli

$16

FRENCH DIP

thinly sliced tender roast beef, toasted french roll, au jus, creamy horseradish

$16

HAM & BRIE

thinly sliced all natural smoky ham baked with brie and mango chutney on a bakery roll with shredded lettuce, sweet- hot mustard aioli

$16

SMOKED TURKEY & AVOCADO

slow smoked turkey breast, bacon, swiss cheese, avocado, lettuce and tomato with chipotle aioli on a fresh bakery roll

$16
KIDS MENU
CHEESE OR PEPPERONI PIZZA

$12

CHICKEN TENDERS WITH FRIES

$12

PASTA WITH MARINARA

$12

PASTA WITH BOLOGNESE

$12
DESSERTS
CHOCOLATE DECADENCE

flourless dark chocolate cake served with raspberry coulis and chocolate mousse garnish

$10

gluten free

KEY LIME PIE

a florida key west classic with graham cracker crust, a tart lime filling and fresh whipped cream topping

$10

CHOCOLATE FONDUE - RECOMMENDED FOR DINE IN ONLY

a medley of milk & dark chocolate served with an assortment of dipping goodies and ice cream ­ good for two or more people or one serious chocolate lover!

$20

MIXED BERRY PUFF PASTRY - RECOMMENDED FOR DINE IN ONLY

fresh strawberry, blackberry & blueberry compote sandwiched between a crisp puff pastry with fresh whipped cream and vanilla ice cream

$10
CRAFT COCKTAILS!!
Basil Therapy

tanqueray gin, grapefruit juice, agave nectar, fresh basil

$13

Cucumber Bliss

tito's handmade vodka, fresh lime, muddled english cucumber, simple

$13

Employee's Manhattan

four roses bourbon, gran marnier, carpano antica rouge, bitters

$13

Black Walnut Old Fashioned

templeton rye whiskey, black walnut bitters, fresh orange zest, house simple syrup

$13

Classic Margarita

herradura silver tequila, fresh lime, house simple syrup, dash of sweet n sour, gran marnier

$13

El Pistola

patron silver, st. germaine, fresh lime, muddled cucumber, splash agave nectar

$13

Irish Mule

jameson irish whiskey, fresh lime, ginger beer, splash simple

$13

Sangria

house made with red wine, brandy and fresh fruit juices

$13

Whiskey Smash

makers, muddled fresh mint, fresh lemon, simple

$13

Classic Cosmo

vodka, cranberry, fresh lime, simple, sweet n sour, triple sec

$13

Ruby Red

stoli, fresh lime, simple, grapefruit

$13
Cabernet Sauvignon
J. Lohr

Seven Oaks, Paso Robles 2018

(375ml) $30

$54

Avalon

Napa 2018

$14.50

$57

St. Francis

Sonoma 2018

$17

$67

Justin

Paso Robles 2018

(375ml) $40

$72

Hess

'Allomi Vineyard', Napa 2018

$19

$76

Quilt

Napa 2018

$20

$80

Freemark Abbey

Napa 2017

$89

Silverado

Napa 2016 (90 pts)

$96

Faust

Napa 2018

$102

Hall

Napa 2015 (92 pts)

$109

The Prisoner

'Cuttings' CA 2018

$110

Stag's Leap Wine Cellars

'Artemis', Napa 2017 (91 pts)

$111

Inglenook

'Cask Cab', Rutherford 2014 (93 pts)

$130

Joseph Phelps

Napa 2017 (91 pts)

$131

Kenwood

'Artist Series', Sonoma 2013 (95 pts)

$144

Silver Oak

Alexander Valley 2015(92 pts)

$151

Chimney Rock

Stag's Leap 2015 (92 pts)

$172

Caymus

out of stock $178

(2013) L $203

Silver Oak

Napa 2013 (91 pts)

$205

Stag's Leap

'Fay', Napa 2012 (96 pts)

$307

Dominus

'30th Vintage', Napa 2013 (100 pts!)

$461
Merlots
Montpellier

California 2017

$11.50

$46

Coppola

'Diamond Collection' CA 2016

(375ml) $27

$52

Benziger

Sonoma 2014

$56

Flora Springs

Napa Valley 2017

$62

Markham

Napa 2017 (91 pts)

$16

$63

Rombauer

Napa 2017

(375 ml) $47

$92

Duckhorn

Napa 2016 (90 pts)

(375ml) $62

$121
Bordeaux & Bordeaux Blends
Mondavi

'Purple Heart', Napa 2014

$57

Cinnabar

Mercury Rising, California 2018

$58

Browne Family Vineyards

'Tribute', Columbia Valley 2018 (92 pts)

$18

$72

Chateau De Pez

St. Estephe 2014 (94 pts)

$106

Justin

'Isosceles', Paso Robles 2016 (93pts)

$171

Chimney Rock

'Elevage', Stag's Leap 2017 (92 pts)

$178

Joseph Phelps

'Insignia', Napa 2012 (97 pts)

$308
Pinot Noir
Mark West

CA 2018

$50

Carmel Road

Monterey 2017

(375ml) $28

$54

Cherry Pie

'Cherry Tart' by Layer Cake, CA 2018 (90 pts)

$15

$60

Byron

'Nielson' Santa Maria 2015

$64

Acacia

Carneros 2016

$66

Böen

Santa Lucia Highlands 2017 (91 pts)

$17.50

$68

Steele

Carneros 2017

(375ml) $32

$68

La Crema

Sonoma 2018

(375ml) $35

$74

Argyle

'Reserve' Willamette 2018

(375ml) $37

$77

Testarossa

Santa Lucia Highlands 2019 (91 pts)

$22

$82

Foley

Santa Rita Hills 2014

$84

Au Bon Climat

'La Bauge au Dessus', Santa Maria Valley 2016 (90 pts)

$92

David Bruce

Santa Cruz Mountains Estate 2010

$94

Archery Summit

Willamette Valley Premier Cuvee 2018

$104

Faiveley

Gevrey Chambertin, Burgundy, FR 2015

$122

Flowers

Sonoma 2018 (90 pts)

$131

Miura

'Pisoni' Santa Lucia Highlands 2014 (96 pts)

Bottle $137
Zinfandel
Folie a Deux

Dry Creek Valley 2017

$13

$51

Sobon Estate

Fiddletown 2018

$52

Klinker Brick Winery

'Old Vine', Lodi 2016

$52

Steele

'Pacini Vineyard', Mendocino 2016

$54

Layer Cake

'Primitivo', Puglia, IT 2019

$14

$56

Cline

Sonoma 2018 (90 pts)

$57

Ridge

'Lytton Springs', Dry Creek 2018 (92 pts)

$91
Rhones & Rhone Blends
The Crusher

Petite Sirah, Clarksburg 2016

$11.50

$46

Qupe

Syrah, Central Coast 2016

$54

Chateau Peuch-Haut

'Prestige', Languedoc, FR 2017 (94 pts)

$58

Domaine De Vieux Lazaret

Chateauneuf du Pape 2017 (90 pts)

(375 ml) $48

$88

Two Hands

Shiraz 'Gnarly Dudes', Barossa Valley, AU 2017 (91 pts)

$91
Significant Others
Joseph Drouhin

Beaujolais – Villages 2016

$11.50

$46

Perry Creek

Barbera, 'Amorata Vineyard' El Dorado 2013

$46

Bodegas Castano

'Solanera' Monastrell, Cabernet & Garnacha,Yecla, Spain 2013

$50

Sancho Barón

Rioja, Spain 2016

$50

Achaval Ferrer

Malbec, Mendoza, Argentina 2018

$13

$51

Noster

'Inicial', Priorat, Spain 2017

$14

$55

Caymus

'Conundrum' Red Blend, CA 2018

$61

Churchill's Estates

Douro Pinto, Portugal 2012

$61

Frescobaldi

Nipozanno, Chianti Rufina Riserva, IT 2015 (94 pts)

$64

Fonterutoli

Chianti Classico, IT 2015 (90 pts)

$70

Clos Erasmus

'Laurel', Priorat, Spain 2016 (92 pts)

$96

The Prisoner

'Napa Valley Red Wine Blend', 2018 (92 pts)

$110

Aalto

Tempranillo, Ribera del Duevo 2014 (94 pts)

$121

La Gerla

Brunello di Montalcino, IT 2014 (95 pts)

$123

Masi

Amarone Costasera Classico, IT 2011 (94 pts)

$131
Sparkling Wine & Champagne
Domaine Ste. Michelle

Washington NV

$10

$47

Zonin

Prosecco, 'Spago Nero' Veneto NV

$10.50

$49

Rotari

Rose, Trento, IT (90 pts)

(187ml) $14

Gruet

Blanc de Noirs, New Mexico NV

(375ml) $28

$54

Domaine Chandon

Blanc de Noir, Carneros NV

$13

$58

Roederer Estate

Brut, Anderson Valley NV

$60

Santa Margherita

Brut Rose, IT NV

$60

Gloria Ferrer

Royal Cuvée, Carneros NV

$74

Roederer Estate

Brut Rose, Anderson Valley NV

$74

Louis Roederer

Brut Premier, Reims, France NV

(375ml) $63

Bottle $110

Veuve Clicquot

Yellow Label, Reims, France NV

(375ml) $68

$127

Veuve Clicquot

Demi Sec, (lightly sweet), Reims, France NV

(375ml) $68

Taittinger

Brut Millesimes, Reims, France 2013

$183

Moét Chandon

'Cuvée Dom Perignon', Reims, France 2006

$273

Louis Roederer

'Cristal', Brut Reims, France 2005 (98 pts)

$383
Chardonnay
Calina

Valle de Casa Blanca Chile 2019

$12

$48

R Collection

by Raymond, CA 2019

$48

Benziger

Sonoma 2019

$13

$51

J. Lohr

'Riverstone', Monterey 2019

(375ml) $26

$13

$52

Kendall-Jackson

Vintner's Reserve, California 2017

$14

$55

La Crema

Sonoma Coast 2018

$16

$62

Olivier Leflaive

Setilles Puligny Montrachet 2019

$17

$67

Landmark

Overlook, CA 2018

$18

$71

Testarossa

Santa Lucia 2018

$19

$75

Talbott

'Sleepy Hollow Vineyard', Santa Lucia 2016 (90pts)

$20

$80

Rombauer

Napa 2019

(375ml) $46

$23

$90

Cakebread

Napa Valley 2018

$104
Sauvignon Blanc
Babich

New Zealand 2019

$45

Morgan

Monterey 2018

$13

$52

Ferrari-Carano

Sonoma 2020

$14

$55

Kim Crawford

Marlborough, New Zealand 2020

$14.50

$57

St. Supery

Napa 2019

$18

$72

La Doucette

Pouilly Fume, Loire Valley 2017

$81
Riesling and Gewurtztraminer
J. Lohr

'Bay Mist' Riesling, Monterey 2019

$11.50

$46

Pacific Rim

Medium Dry Riesling Columbia Valley 2018

$12

$48

Thomas Fogarty

Gewürztraminer, Monterey 2016

$12.50

$50

Chateau St. Michelle & Dr. Loosen

'Eroica' Riesling, Columbia Valley 2019

Glas $17.50

$70

Domaines Schlumberger

Grand Cru Riesling, Alsace 2015 (94 pts)

$72
Significant Others
Rocca Delle Macie,

'Moonlite', Tuscana IT 2017

$36

Quady

'Electra', Orange Muscat, California 2019

$10

$40

Montpellier

Viognier, CA 2018

$10.50

$42

Pine Ridge

Chenin Blanc-Viognier, Clarksburg 2019 (90pts)

$12

$48

Estancia

Pinot Grigio, California 2020

$12.50

$50

Macmurray Ranch

Pinot Gris, Sonoma Coast 2018

$12.50

$50

Santa Margherita

Pinot Grigio, Italy 2017

$15

$59

Domaine Du Vieux Lazaret

Chateauneuf Du Pape Blanc 2017

$75
Rosés
Beringer

White Zinfandel, California 2020

$11

$44

Jean Luc Colombo

'Cape Bleue', Rosé, 2019

$11.50

$46

Justin

Rosé, Central Coast 2020

$12.50

$50
Specialty Cocktails
Whiskey Smash

four roses small batch bourbon, lime, simple, mint, splash soda

$13

New York Sour

makers mark bourbon, fresh lemon, simple, topped with malbec

$13

Employee's Manhattan

four roses small batch bourbon, carpano antica rouge, grand marnier, bitters

$13

Sazerac

templeton rye, absinthe, peychaud bitters

$13

Inside Job

templeton rye, liquor 43, campari, blood orange bitters

$13

Irish Mule

jameson irish whiskey, ginger beer, fresh lime

$13

Basil Therapy

tanqueray gin, grapefruit juice, agave nectar, fresh basil

$13

Belle Le Fleur

hendricks gin, st. germain elderflower, cucumber, lime

$13

Pyrat Punch

pyrat rum, citronge mango, passion fruit, bitters

$13

Classic Daiquiri

bacardi, simple, lime

$13

Cucumber Bliss

tito's handmade vodka, fresh lime, muddled english cucumber, simple

$13

Ruby Red

stoli vodka, tonic, and fresh-squeezed ruby red grapefruit

$12

The Metropolitan

skyy vodka, champagne, strawberry puree, mint garnish

$12

El Pistola

patron, st. germaine elderflower, agave nectar, muddled cucumber, fresh lime

$13.50

Baja Especiál

an authentic margarita made with only patron, fresh lime, splash OJ

$13.50

Backdraft

sauza hornitos, licor 43, fresh lime, sweet n sour, jalapeños (muy caliente!)

$12
Draft Beers
$8 - $10

Deschutes Fresh Squeezed IPA

(India Pale Ale)

Lagunitas Little Sumpin' Sumpin'

(Pale Wheat Ale)

Ballast Point Sculpin

(India Pale Ale)

Trumer

(German Pilsner)

805

(Honey Blonde Ale)

Santa Cruz Mountain Brewing Truth or Dare

(Stout)
Bottled Beers & Ciders
Guiness

$8

Corona Extra

$7

Clausthaler

(non-alcoholic)

$7

Heineken

$7

Coors Light

$7